Owner
Tsumiki Miniwa
Admins
Rex Skywalker
Seikairyuu Zero
Lucifer
Moderators
Lord Frederick
___________________________
RECRUITING STAFFS PM Rex Skywalker to apply!
GFX Staffs
RECRUITING STAFFS PM Rex Skywalker to apply!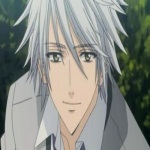 - My Information -
Name:
Airo Hakisho
Nickname:
Kid
Gender:
Male
Age:
17
Birthday:
July 13
Sexuality:
Straight
Others:
Suffers from amnesia.
Personality:
Airo is very quiet. He often keeps to himself as "that one guy in the corner". He usually won't speak unless spoken to. He is often afraid to ask anyone about anything due to the few things he can remember. He is shy by nature, but in his guild he acts as a peace keeper, to keep everyone from tearing each other's head off. He is usually smiling unless someone asks him of his past. Though afraid to actually talk to anyone his voice seems to calm a lot of people down. Other than that he is a very nice kid.
Likes:


Sleeping

Being alone

Stop people from fighting

Training

Quiet

Dislikes:


Fighting

Bad breath

Anyone getting injured, even if its his opponent

Mushrooms

The color cyan, something about it just pisses him off.
Motivations:
Airo is motivated to live. If it be with memories or without. His main goal of being in a guild is to try and find a way to get his memories back. All he can remember is his name, he can use magic, and that how he lost his memories. What motivates him to keep on living is all his friends he has made working with guilds and the constant threat of being killed. Every night he questions if he is going to live or die the next morning and if he is going to have to fight to the death.
Fears:
His greatest fear is to wake up and all his friends have turned on him. His life before the guild has been a constant fight for survival which he has endured by himself without any idea of his past. He has wandered into times that death was staring at him in the throat and he has surpassed any challenge thrown at him so far. He has been left with one scar that reminds him of a man, once his friend, turned against him. Another constant fear is the fact that if he finds his memories, they are evil and made him out as a criminal and a murderer.
Height:
6'3
Weight:
124 pounds
Hair:
Pure white
Eyes:
Grey
General Appearance:
Airo is a tall boy with luscious white hair. His grey eyes make it seem like he is blind, though he is not. He has a scar across his face that acts as a reminder to get his memory back. He wears a white shirt matching with light blue pants. He wears sandals along with a shape of a rose on their heel. On his chest lies another scar that represents why he is still fighting. On his left shoulder lies his tattoo of his magic, bound to the symbol lies his soul. He usually has his eyes closed to keep people from thinkin he is blind.
History:
He does not remember. All that he can remember is a man with cyan colored shirt who struck him down and then total blackness. As he woke up he was alone in a patch of cyan mushrooms, glowing in a dark cave. He traveled alone for two years with no memories until he came across a mage who proceeded to fight him. Airo had no clue what he is and still only knows to an extent. As a bolt of a streaming arrow rushed towards his head he held out his hands and ice claws have erupted from them. He still only has the ability of a rank d, but has the potential of a rank-s. After Airo defeated the mage, another one approached. This one offered him a job in which Airo accepted. Little did he know that the job was an initiation into the guild Blue Pegasus. In time he has regained few memories, some good and some bad, but he still has no idea of where he is from and what his true potential is. He had gotten to know many other mages some powerful and some weak. All who fought around him had often been knocked unconscious if they managed to get violent. He often found sanctuary in the cave where he woke up in, like it was his last hope to get his memories back.
Guild:
Blue Pegasus
Tattoo:
It is purple and is on his right shoulder.
Rank:
S
Last edited by Airo Kyoni on Thu 1 Nov - 15:36; edited 4 times in total
Ummmm okay cool~ Nice details and great app

could you please edit the picture, perhaps make it smaller.

And yeah what rank do you wanna be?
Admin




Posts

: 69


Join date

: 2012-10-04


Age

: 21


Location

: Malaysia

Character Sheet
Jewels: -
Character Name: Rex Skywalker
EXP:


(999/999)



I would like to be a rank s ice dragon slayer so yea and will fix the pic in the morning.
.::Signature::.

Admin




Posts

: 66


Join date

: 2012-09-18


Age

: 23

Character Sheet
Jewels: -
Character Name:
EXP:


(999/999)



Sorry Airo, you might wanna add some more details explaining the likes and dislikes since you are going to be S rank, you have make everything in detail and then bump until further notices
Admin




Posts

: 69


Join date

: 2012-10-04


Age

: 21


Location

: Malaysia

Character Sheet
Jewels: -
Character Name: Rex Skywalker
EXP:


(999/999)



.::Signature::.

Alright, seems fine cause the list is quite prominent and intriguing , so Approved!
Good Work, keep it up ^_^
Admin




Posts

: 69


Join date

: 2012-10-04


Age

: 21


Location

: Malaysia

Character Sheet
Jewels: -
Character Name: Rex Skywalker
EXP:


(999/999)




---
Permissions in this forum:
You
cannot
reply to topics in this forum